Saturday, April 29 @ 9:30pm - Fox Glacier
My drive from the bottom to the top of "the land of the long white cloud" has begun. I landed in Queenstown at 2:30pm this afternoon and by 4pm I was in my car filled with fuel ($2.12/L - ouch!!), Maccas (MacDonald's in New Zealand or Australian) in hand, and the GPS was set to Fox Glacier - my first stop of a three day journey. Why am I doing this, you ask? That's a good question.
You see, just over two months ago, I was living in Queenstown but went for a job interview in Auckland. A few days later the recruiter called. "You got the job" she said, "but there's a hitch". Uh oh, I thought. "They'd like you to go to Australia for the first two months." To nobody's surprise - I replied, "Sure. When?" A few days later, I packed up my things, left my car in Queenstown, and flew to Melbourne. I arrived back in Queenstown today still feeling the effects of last night's well-stocked send-off by my Australian colleagues and cherished new friends. You see, the four of us started on the same day with a brand new client. With a variety of work experience - a Kiwi from a small business association in the U.K., two Aussies who worked together for the Melbourne Cup (the horse race "that stops a nation") and one who dealt with the craziness that ensues from the triple zero emergency dispatch line in Melbourne, and of course, a Canadian from government and politics - we all had so much to bring to the table. It was a team effort right from the outset. A breakup, horrible roommates, a family emergency, and even when one of us crashed a car (cough...Ana...cough) - we flung into action. Luckily, we didn't have to fling ourselves too far for Ana. ;) These ladies, plus our fearless leader and always positive champion Kylie, have become such amazing friends. Already looking forward to our next wine session...
But for now, I had to get to Auckland. My first few kilometres included the Crown Range Road - one of my favourite roads in New Zealand as it comes with a bevy of switchbacks. At the top you're rewarded with a stunning view of the valley and the Remarkables.
Before the sun set, I got a few more amazing photos. Finally, I got a pic of sheep grazing. So often I see the field of sheep and can't pull over in time to snap a photo. I also caught the sun hitting a mountain ridge - it looked more magnificent in person.
And the piece de resistance - Bradona. Yep, a fence of bras located in Cardrona. I honestly had to Google why the hell this fence exists and I'm sorry to say that Wikipedia was not enlightening about the bra fence. I had driven by it before but had never felt the need to stop and snap a photo. Today was the day. I mean, who knows when I might be back! I didn't want to regret not taking a photo of all the bras! And no, I did not leave one behind. I'm still living out of a suitcase - there are no extra bras to just go leaving willy nilly on a fence.
Five hours and three "trim" flat whites later, I arrived in Fox Glacier with only a few nerves intact and two pretty sore eyes. Given it's autumn, the darkness set in soon after leaving Queenstown. Then the rain started. I slowed my speed considerably as the road began to twist and turn through Mount Aspiring National Park and over the Haast pass towards the west coast. If that wasn't enough, I was met by an army of suicidal possums. There they were, just sitting in the middle of the road, looking longingly into my high-beams with their beady red eyes. If I were a Kiwi, I would have taken great joy in connecting my front tires with said possums. Heck, if I were a Kiwi, I would have swerved to make it a certainty. But having already blown a tyre during my first week of car ownership and now with four brand spanking new tyres, I gave the breaks, horn and steering a good workout instead. Plus, I have a bit of a phobia when it comes to rodents, dead or alive so the last thing I wanted was their guts splattered on my pretty white car. Now, you may be rolling your eyes. Perhaps even cursing me for risking my own life for theirs but let me be clear - these were no small possums. Their mouse-like head sits on top of a body that would have made my Grandma's tabby cat T.C. look thin. Hitting one of these possums would not be a case of "bumpbump" but rather a "BADUMP! BADUMP!" I was not doing it.
The bar tender who poured me what I thought was a much deserved beer in Fox was unimpressed. After all, the possum is public enemy number one, just barely ahead of Australians. It's estimated that there are 30 million possums for a country with just 4.6 million people. It's part of the national identity to hate the possum just as it's customary for 98% of Canadians to hate the Toronto Maple Leafs. Although you don't risk your life meeting a possum on the road as you do with a great Canadian moose, the rodent threatens the future of many bird species (the only native species to New Zealand!!) by eating the eggs and attacking the adults. They also spread diseases, including the devastating bovine spongiform encephalopathy (BSE) between cows. Even with this knowledge, I am unable to swerve towards them. I guess I'll have to stick to daytime driving.
Sunday, April 30 @Westport 7pm
Today was such an amazing day of driving. I purposefully chose the longer route up the west coast of New Zealand instead of crossing over to Christchurch and heading up the middle - and for good reason. The west coast of New Zealand is jaw-dropping beautiful. For nearly 300 kilometres I was surrounded by dense, diverse and deep green forest. This region would give the Amazon a run for its money. I felt like I was in the 90's animated movie "Fern Gully". I started in Fox Glacier and drove north through Mount Cook National Park. As far as the eye could see, there were ferns, palms, deciduous, conifers, and moss. If pink and purple didn't exist, green would be my favourite colour; I love it. But do you know what makes things green? Rain. And lots of it. The west coast of NZ gets more than its fair share of rain. As you can see from the photos below, it's a blessing in disguise.
While I need to get to Auckland ASAP, I'm bound and determined to make the most of my 23 hour drive. With my new travel list growing by the day, I have to accept that I may never be in these parts again so I'm making a few touristy stops along the way. I even detoured inland 20 minutes to see the beautiful Hokitika Gorge. I had seen other backpackers' photos and knew I needed to see it for myself. When I did, wow. Just wow. Doug Cameron appropriately asked on Facebook whether the colour of the water really was that bluish green colour. It is, Doug. It really is. Today was a dreary rainy day and the sandflies were out for murder. I can't imagine how magical it would have been in the sunshine...
After this detour, it was time to drive out of the forest and farmer fields and towards the coast. From there, I would head north towards my next destination - Westport. The trees thinned and the road straightened out. As I pulled the wheel to the right and my car followed the curve around the bend, the stunning Tasman Sea opened up in front of me. Thankfully, nobody was behind me because I pulled over immediately to get a few pictures.
As I travelled up the coastline, I stopped at the Punakaiki Pancake Rocks and Blowholes. Looking like tall pancake stacks out of something like a Dr. Seus book or WhooVille, the limestone formations sit curiously alone with the sea lapping at them, especially at high tide. The Pancake Rocks were apparently formed 30 million years ago. Small pieces of dead sea creatures and plants landed on the seabed about 2 km below the surface. Immense water pressure caused the fragments to solidify into hard and soft layers. Gradually seismic events lifted the limestone above the seabed. Rain, wind and seawater sculpted the bizarre shapes.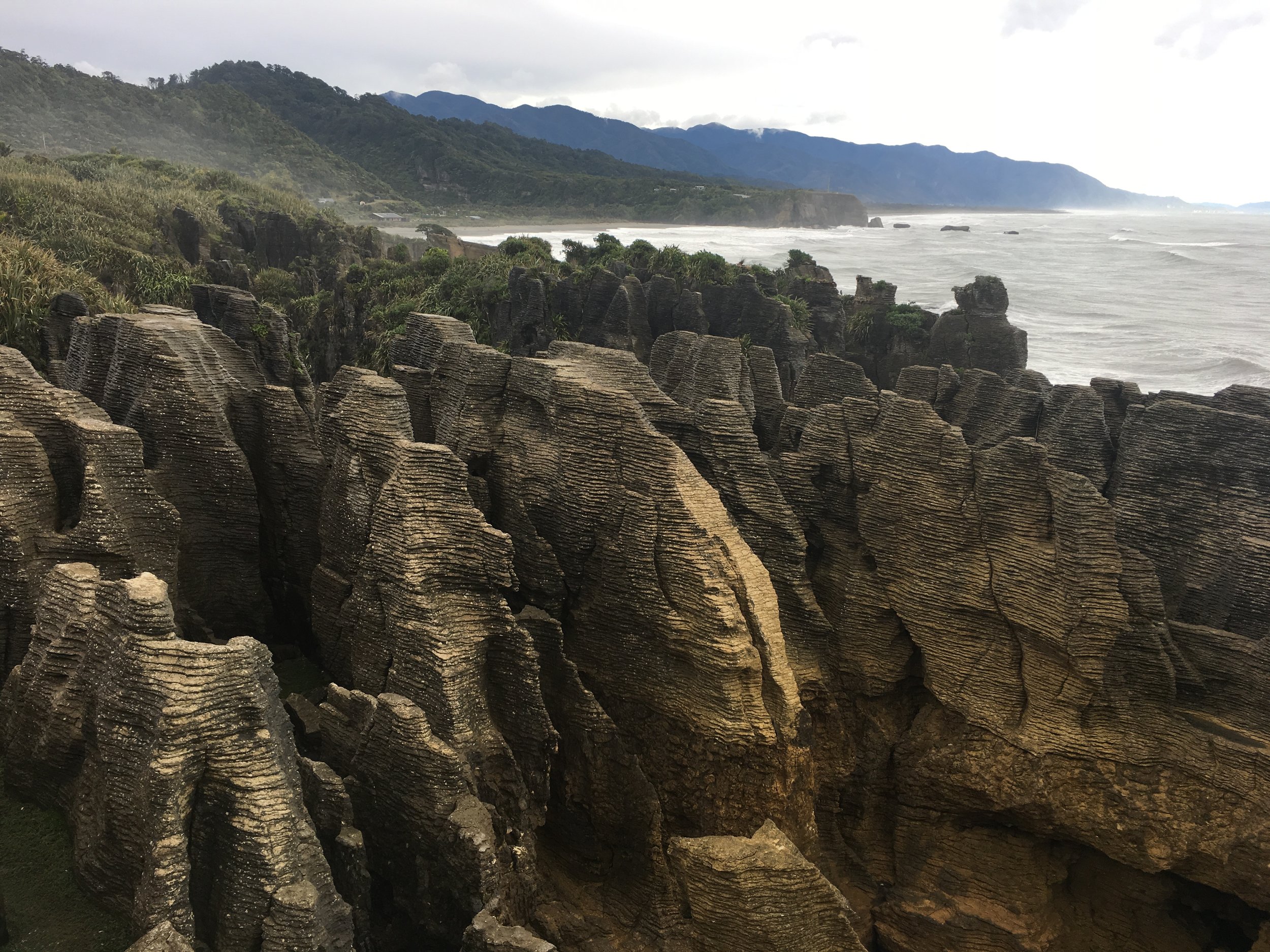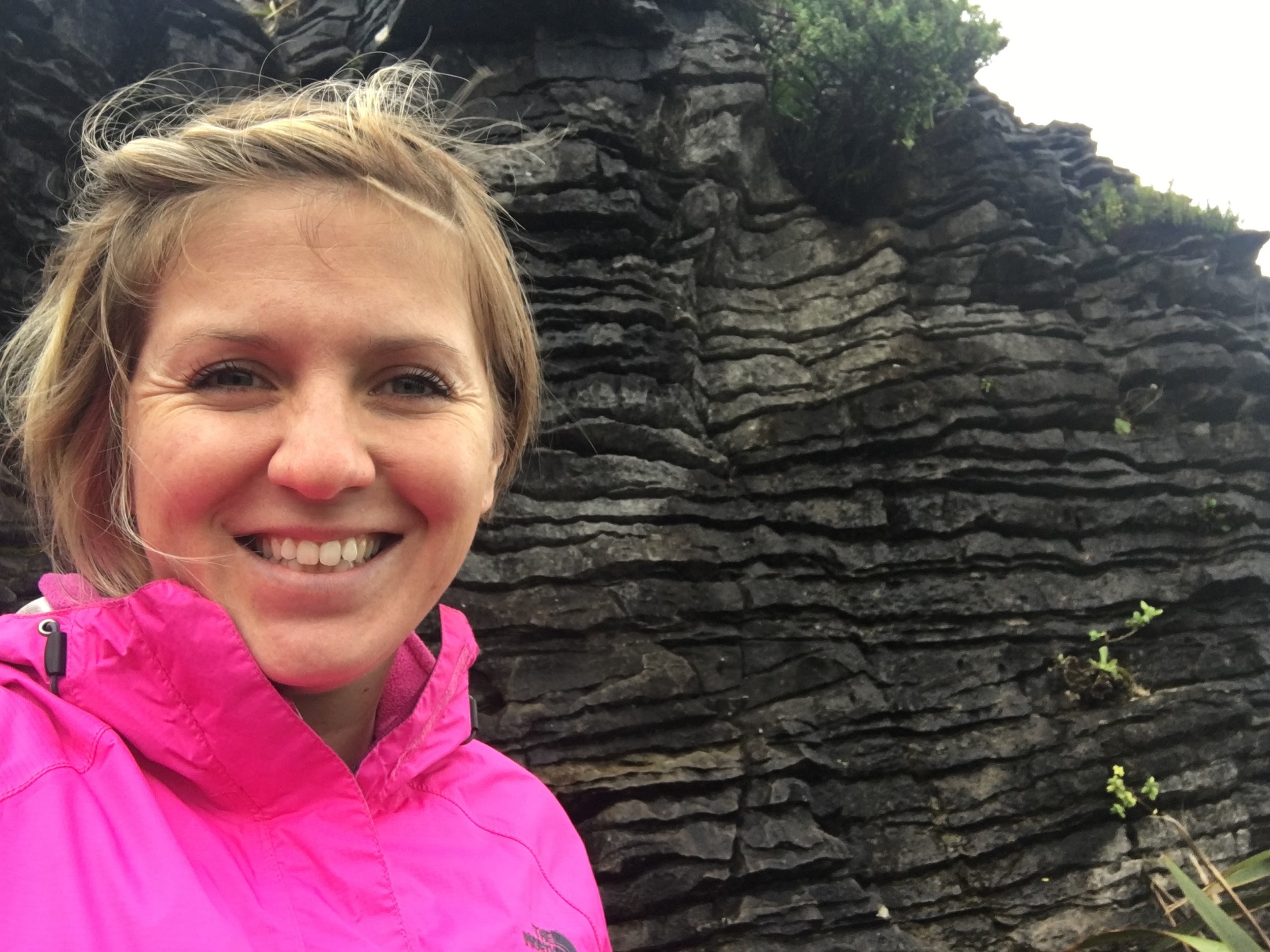 By the time I left the Pancake Rocks, the sun was falling. I didn't want to be on the roads again at night so it was time to get to Westport. However, just on edge of Westport was Cape Foulwind and a Seal Colony. As the sun began to set, I stopped in for a quick walk around the cape. I did see the seals but since the light was so dim and they were far below playing in the water, my photos of them didn't turn out very well. I really enjoyed watching the sunset here, especially as the sun fell below the cloud line and started to hit the range of mountains at the end of the beach. It was a great way to end such a beautiful day on the road. Tomorrow had a lot to measure up to.
Monday, May 1 @ Westport to Wellington via Interislander Ferry from Picton
Ok, my butt is getting sore. So far I've driven 620 kilometres but I am not even half way to Auckland yet. Thankfully, I only have 4 hours of driving today and the ferry take me the rest of the way. Unfortunately, even though I'm driving through Blenheim, I won't get to see my friend Blair who I met on a Contiki trip in the Australian outback last August. She's always an absolute gem to visit which is why I spent both my birthday and Christmas with her last year. It doesn't hurt that she also works in the wine industry which means that I get free tastings in the amazing Marlborough wine region. Yum! However, it's the end of harvest which means that up until now she has been working incredibly long hours. As a reward, staff are given an "end of harvest" party. And today's that day. It's ok though because having decided to stay in New Zealand for the foreseeable future, we can always plan to meet up in Auckland or in Blenheim real soon.
It also means that instead of taking an evening ferry to Wellington, I can catch an early one and get to my hostel in Wellington before dark. I'll also get to enjoy the ferry ride in the sunshine and according to my mom who looked it up, it's also one of the most beautiful ferry rides in the world. I find it hard to imagine a more beautiful ferry ride than the one to Vancouver Island but I guess we'll see. Best get on the road now....
4:30pm @Interislander Ferry
Ferry left at 2:15pm and I arrived with plenty of time to both tidy my car, get a coffee and Facetime my parents. From the moment I boarded the ferry and climbed up to the passenger decks, it was clear that the journey through the Cook Strait would be a fantastic ride. Not only was it beautiful but as soon as the ferry pulled out into the open waters, the infamous character of Cook Strait became apparent.
Lying between the narrow gap of the North Island and the South Island of New Zealand is where the Tasman Sea and the South Pacific Ocean meet. In 1769, the strait was found by James Cook, a very famous British explorer in this corner of the world. At its most narrow point, the gap closes to just 22 kilometers. It's a similar trench as is the Bay of Fundy except that this one opens up on the other end to another body of water with its own characteristics. What makes it even more peculiar is the tide at either end is almost exactly out of sync with one another, so high water on one side meets low water on the other. Strong currents result with almost zero tide change in the centre of the strait. Due to the strong tidal flows and varying underwater topography, violent eddys are created and this strait is known as one of the most dangerous and unpredictable waterways in the world.
As the ferry exits the bay, the captain announces that the three metre swell that we are encountering is "less than ideal" reminds passengers to stay seated as much as possible and where to locate sick bags. Midway through the trip, Captain Obvious comes over the speakers to inform passengers that "the vessel is experiencing some movement". A round of laughter erupts in unison from the passengers. Ya, we noticed as we sway violently in our seats. Although I haven't been diving lately, my sea legs are firmly intact and I nap like a baby in a swing.
After my nap, I head out to the open deck to check out the swell - it is awesome!
Before long, the swell settled and the ferry approaches the Wellington harbour. Those passengers who are not green go back out to the deck to see a beautiful sunset over Wellington.
Tuesday, May 2 @Wellington - Last Day!! (Wellington to Auckland)
It's an early one this morning. At 6am I rolled out of bed determined to make an early start. I want to be in Auckland as early as possible but given it's an eight hour drive and I'll need to stop at least three times, it's going to be a long day. While I didn't want to drive in the dark again, the sun is not yet up. Hopefully by the time I get fuel for the car and myself, it will be.
I've just stopped for a bite to eat. I'm making good time as I know this road well having travelled it either on my own already or with my Contiki tour. I just drove the town of Bulls - what a place. Somehow the entire town has decided to include "bull" puns in the names of their businesses, restaurants, and centres. I kid you not. Even the sign for the local police station says "Const-a-bull". It's...unique. I, of course, took a moment to send Monique, my Contiki tour guide, a pun-filled note to say hello from Bulls.
Made it to the stunning Tongariro National Park by 10am. Gosh, I love this place. I hiked the Tongariro Alpine Crossing back in December. Although it was beautiful, it was cloudy that day. I can't wait to do it again on a crisp sunny day. Today was just that but unfortunately, I couldn't fit in a 19km hike. I did have time to stop to take a few photos of Mount Ruapehu and Mount Ngauruhoe (Mount Doom from Lord of the Rings). The latter has always been cloaked in a a heavy blanket of cloud so I was excited to see it for the first time today.
4pm
Finally, I've made it to Auckland - my new home for the foreseeable future. Wow. Tomorrow, I start working for a new client - Fonterra. In a way it feels like I'm going back to the familiarity of the agriculture sector but this will be a whole new world to learn. The New Zealand dairy industry runs very differently than its Canada counterpart. I'll also be approaching it from outside government. I've been reading annual reports and all the news I can find to try to get up to speed as quickly as possible. I can't wait to get working and back into the weeds of it all.
For now, I'm tired of driving! At least until my next adventure, that is.