"Congratulations! Today is your day. You're off to Great Places! You're off and away!

You have brains in your head. You have feet in your shoes. You can steer yourself any direction you choose." - Dr. Seuss

As I start a new year, I thought it would be a good time to reflect on the last year of travel. While I can't believe it's been a year already, I realize that I have travelled to ten different countries and too many cities, towns and islands to count. All I've loved but some I've loved a little more than others. Would I recommend going to Vietnam in March? Probably not. How about Cambodia during Lunar New Year? Nope. Would I go to Ko Lipe for a third time? You betcha. How about returning to Pakse, Loas? Not without friends. Should one go to North or South NZ? Both. Can Australia be done in three weeks? Not a chance. And the list goes on. So with the help of a little hindsight, here's a list of my favourite places from the last year.
Canggu, Bali, Indonesia
Bali has gotten a bad rap for being overrun with Aussies who are, more often than not, drunk or drugged 19 year olds. Even without the Aussies, many insist Bali has become too touristy. To that I say, it's touristy for a reason. It's touristy because it's beautiful and because the people are wonderful. If you know where to go you can still find the chill surf towns that made Bali famous. The first step is getting the hell out of Kuta. I repeat, go anywhere but Kuta. And while I'd rather keep this gem of a town a secret for a little while longer, my favourite place on the island of Bali was a small town on the north west side called Canggu (pron. Chang-gu). The only thing overrunning this place was avocado and turmeric lattes – just as it should be.
I admit that I may have enjoyed Canggu a little more than the average backpacker as I treated myself to a five-day stay at a yoga and surf retreat - aptly named, The Chillhouse. Between surf lessons, yoga practice, and stuffing my face with the most delicious food, I napped by the pool or read a book. Our pre-surf breakfast, post-surf breakfast, lunch and dinner were served at rustic family-style tables making it easy to make new friends. When I was able to muster the energy, I explored the bevy of hipster cafes and shops in town by bicycle. On Sunday night we found awesome live music and on Thursday we watched locals try out their latest skateboard tricks in an empty swimming pool while we sipped cocktails around the edge. Although I didn't indulge, you could also go under the needle between drinks. If the tattoo took less than 10 minutes – it was free! Before long, however, everyone would head back to the Chillhouse to get a good night sleep before our early morning surf lesson. In every sense of the word, Canggu was bliss.
The Outback, Australia
Most people gush about the sunny east coast of Australia. And while the swirly blue waters, golden beaches, and seaside skylines are lovely, my favourite place in all of Australia was the outback in the Northern Territory. Hands down. The outback is such a magical place. As I wrote in a recent post, There's no place like home, the Australian outback is like no place I've ever been. From its red sand to its dense tropical forest, the outback's richness is abundant in both history and landscape. It didn't hurt that I toured the outback as part of an amazing group tour with every logistic managed by someone else. At first I was nervous about joining a group tour after travelling by myself for 8 months, but in the end I couldn't have been happier with my decision. Having done another group tour since, I can comfortably say that I was very lucky to have such an awesome group of people in the outback. Brits, Aussies, Kiwis, Scots, Germans, Austrians and even a couple other Canadians rounded out this diverse and interesting group. While I'm happy to say that they all became friends, I'm so grateful that many of us have stayed in touch since and will always be in each others lives. I was also fortunate to have found someone in the outback who seemed to make the sun a little warmer and the stars a little brighter. And while those feelings eventually evaporated, my love for the outback remains.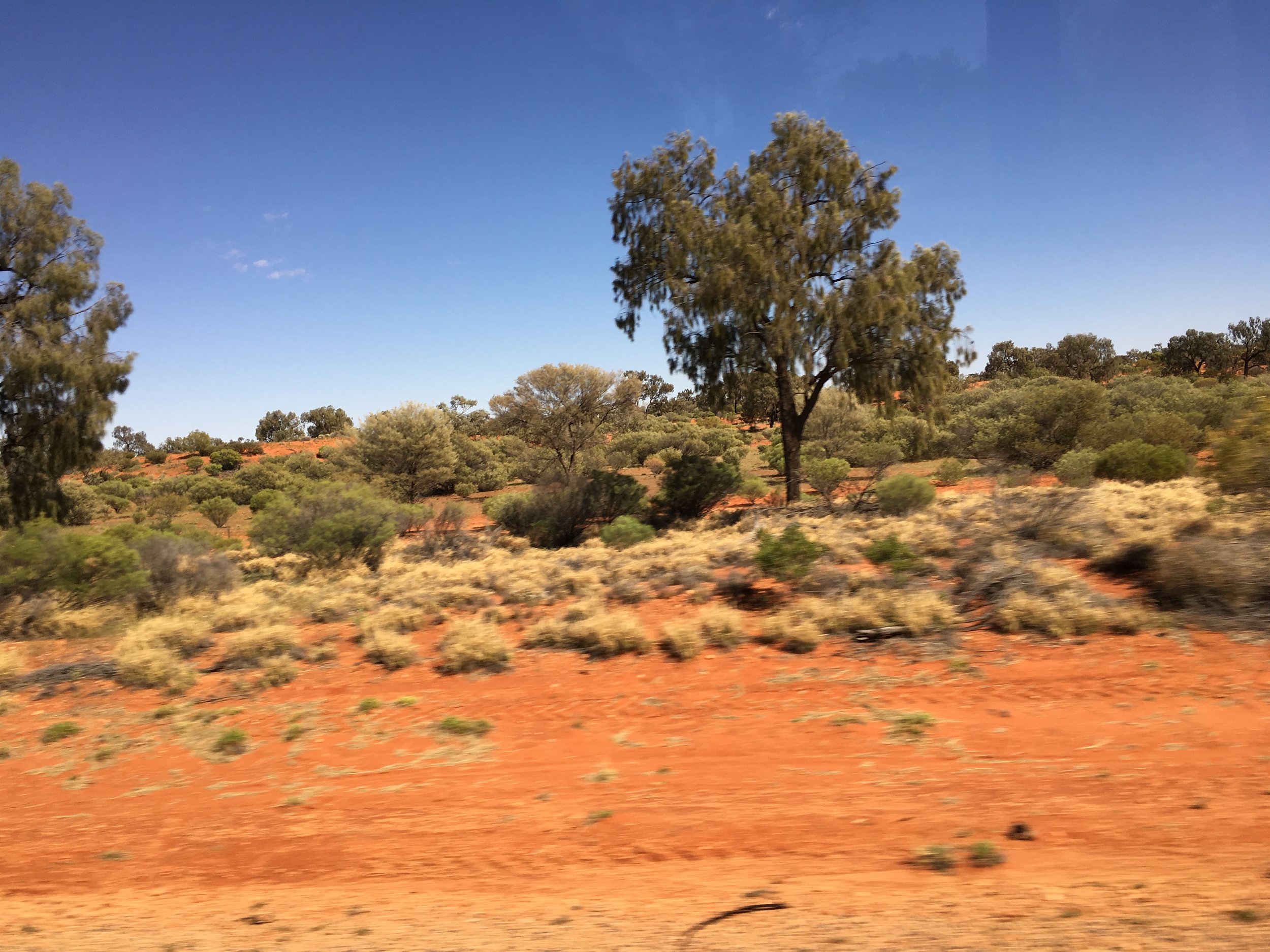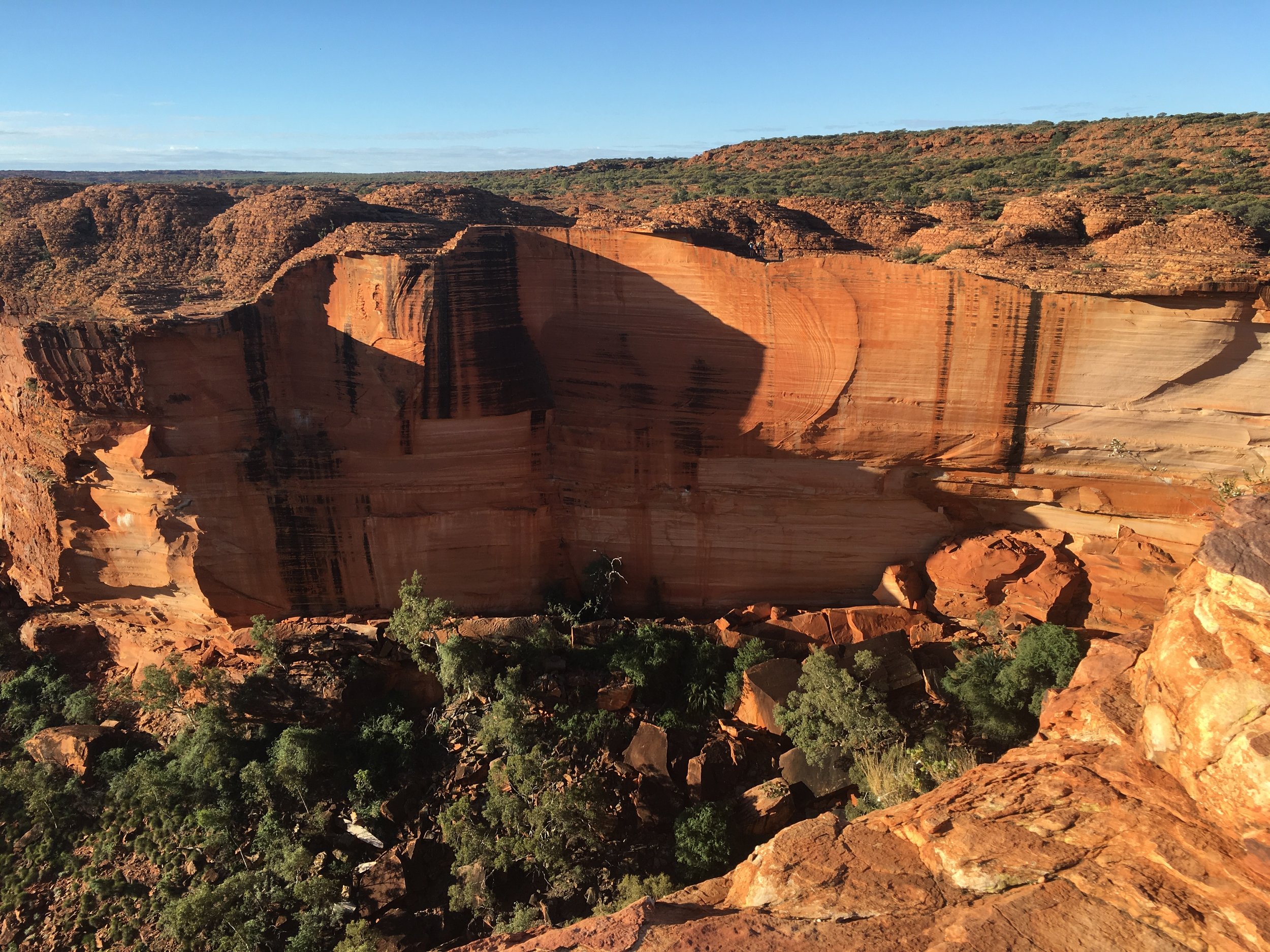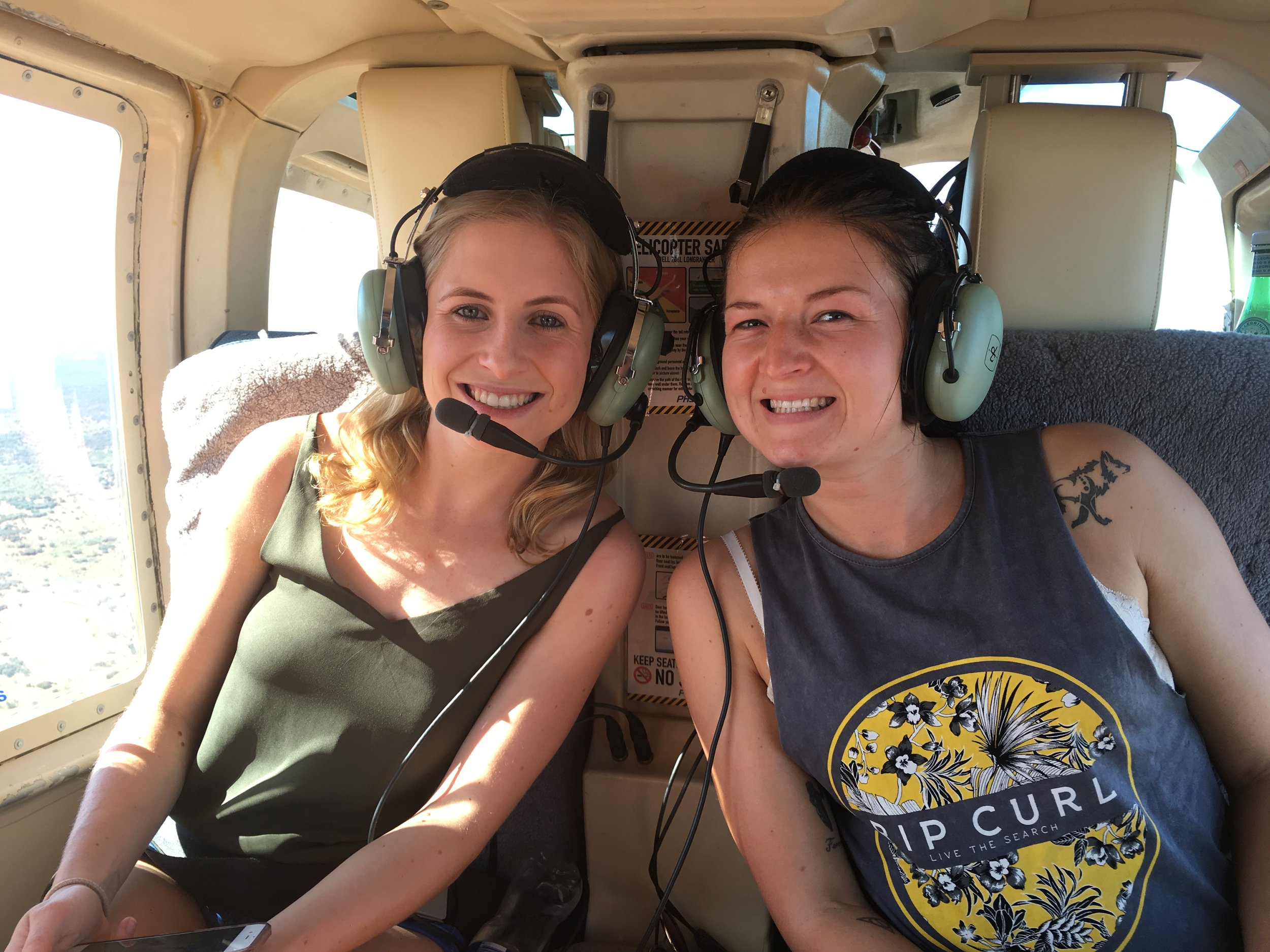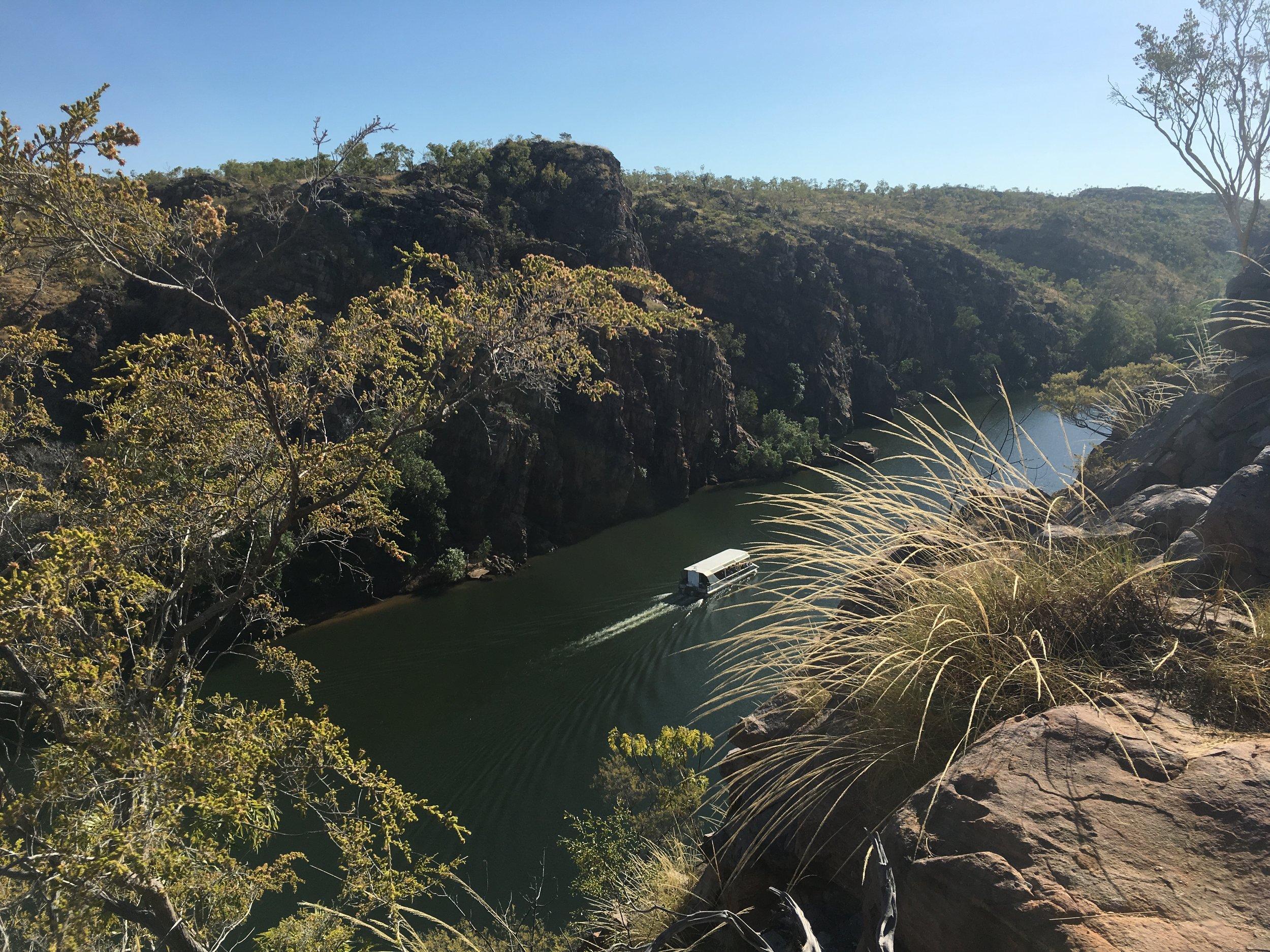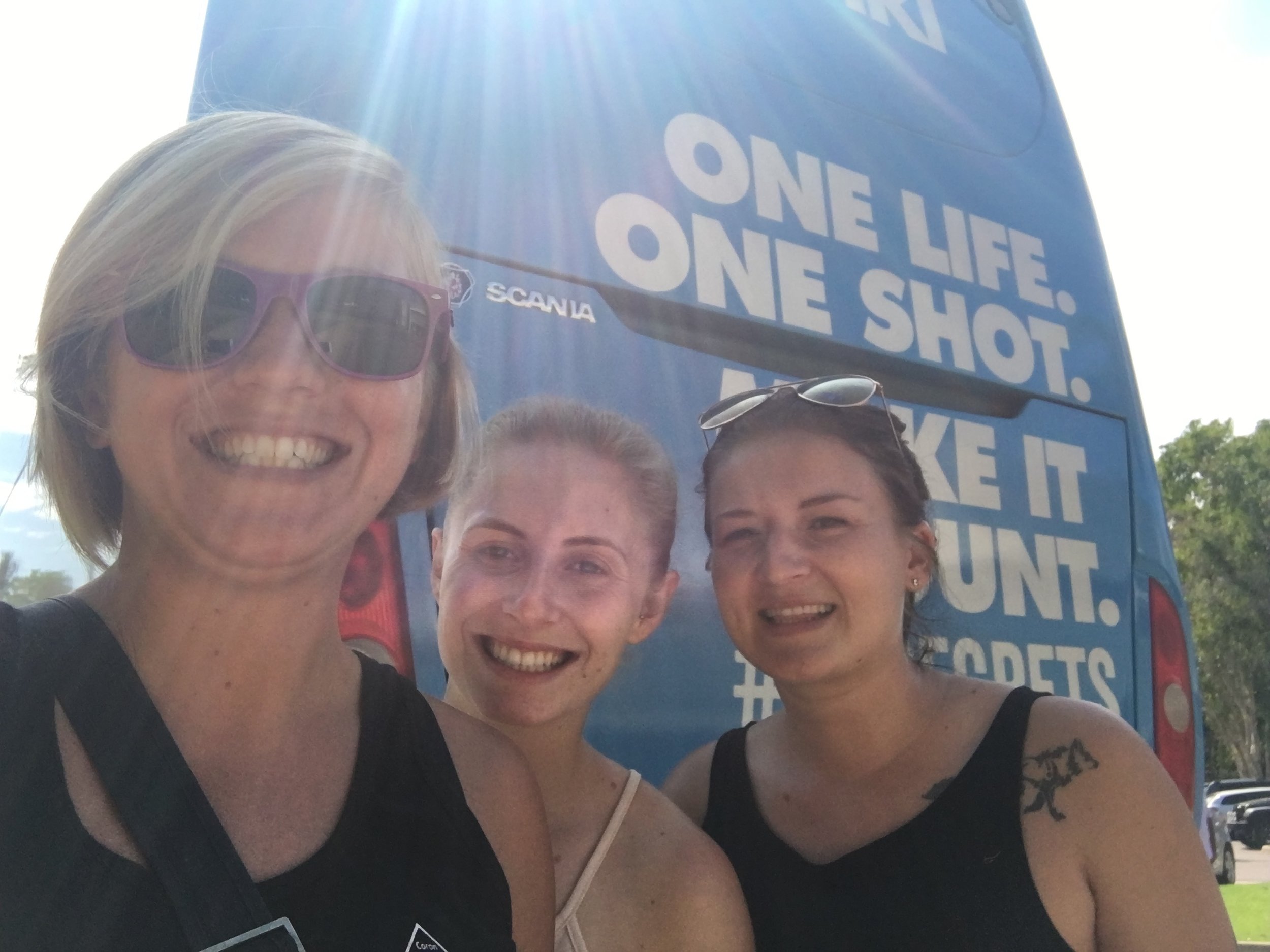 Fiordland National Park, New Zealand
Most days it's rainy. Very occasionally, it's sunny. But every day is beautiful in Fiordland. I recently travelled from Queenstown to Te Anau, a small town just outside of Fiordland National Park and stayed for a week. I loved running along Lake Te Anau – the second largest lake in New Zealand but the crème de la crème was a visit to Milford and Doubtful Sounds. Over the previous nine months of travel, I had talked to fellow backpackers from all over the world and kept a running list of recommendations on where to go and what to do. When I arrived in New Zealand I checked said list and time and time again, one place kept coming up. Milford Sound.
Milford is a must see for anyone travelling to New Zealand. I visited Milford from Te Anau on board a Go Orange tour bus. Although it was raining and cold, the drive to Milford Sound was half the experience. We stopped along the way to see the beautiful Lupins – a pink and purple weed that grows in abundance alongside the roads on the South Island, as well as the Kea bird – a very cheeky parrot that likes to peck at rubber or leather. Given fiords are essentially deep grooves carved through the mountain by glaciers, there is little water absorption when it rains. So when it rains, it pours – waterfalls. While most people complain about the rain, it's easy to see the silver lining when you watch the water teaming down the rock face.
Once we arrived at the Milford terminal, we boarded the Go Orange boat which would take us for a two hour journey around Milford Sound, out to the Tasman Sea, and back. We even got to get up close and personal with the waterfalls as the boat poked it's nose under a few gushers. The blanket of white cloud sitting on top of the iconic Mitre Peak reminded me that even when Mother Nature is having a bad day, she's still incredibly beautiful.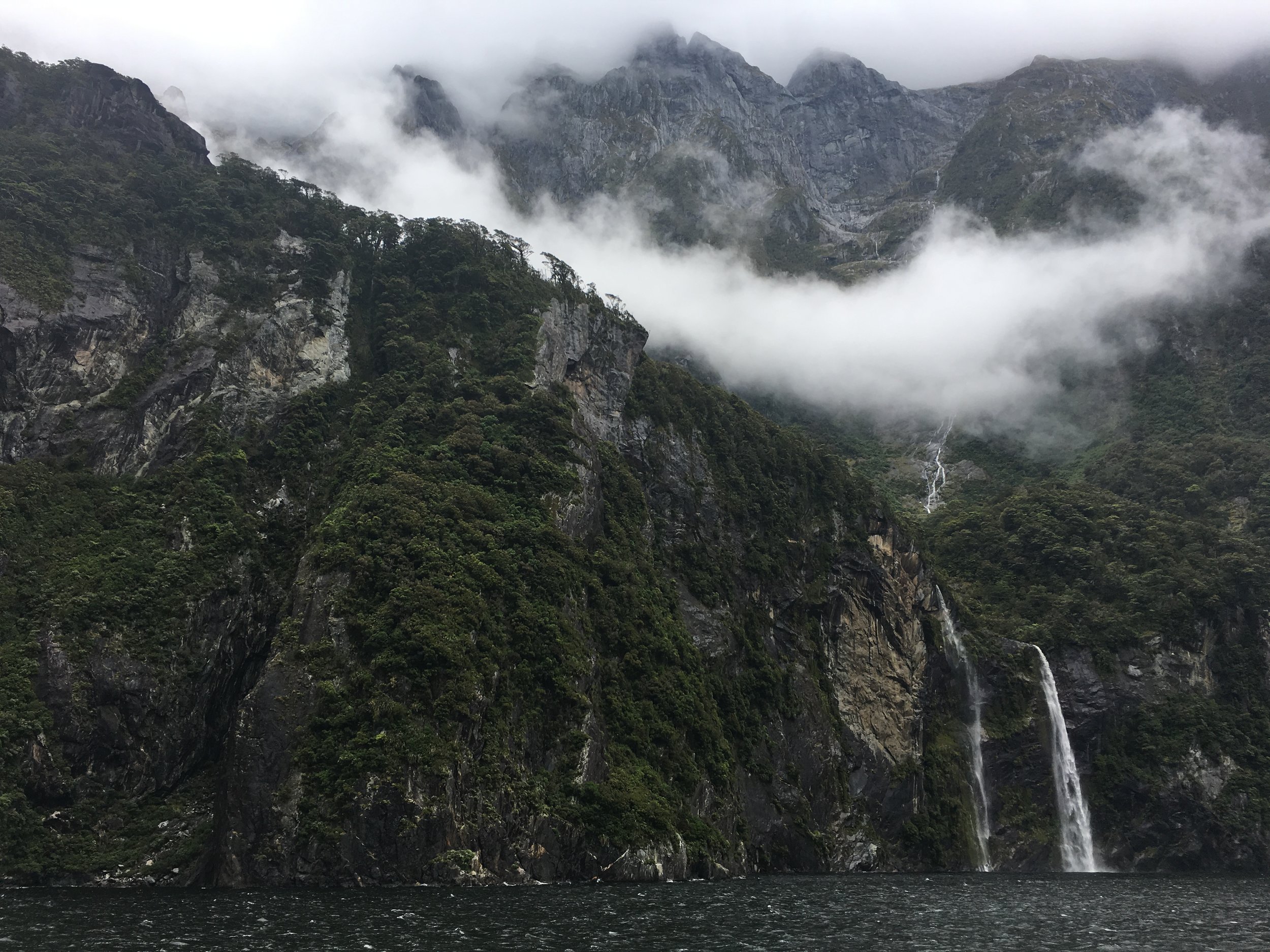 While I fully enjoyed my rainy day in Milford, I was very fortunate to go back a second time on a sunny day. This time, however, I upgraded from a coach to a six seater plane. With sunshine and blue skies aplenty, I peered out at the snow dusted mountain tops and saw the sun sparkle in pools of rainwater below. This was one of the most beautiful flights I've every been on and one of the best things I've done all year.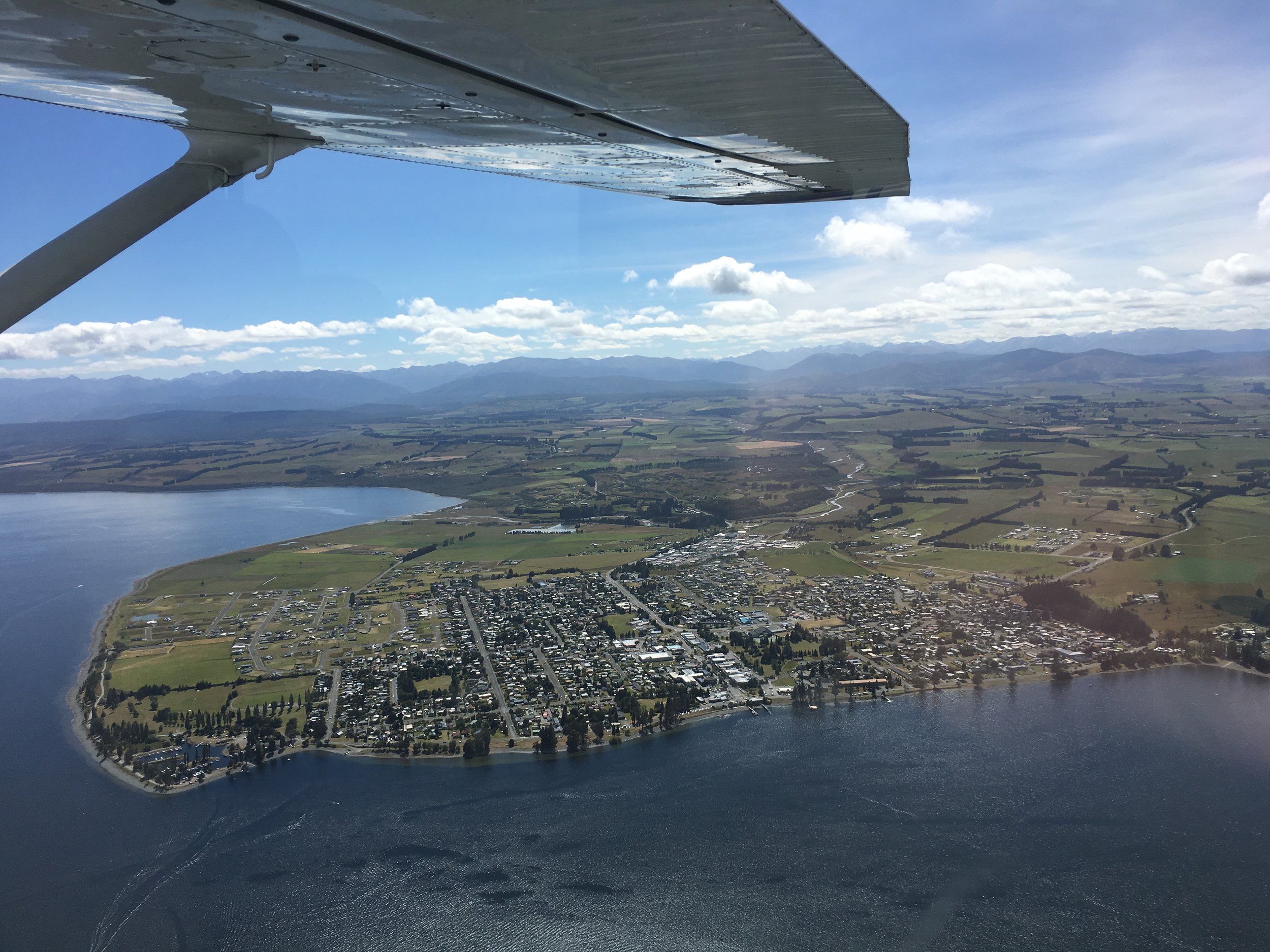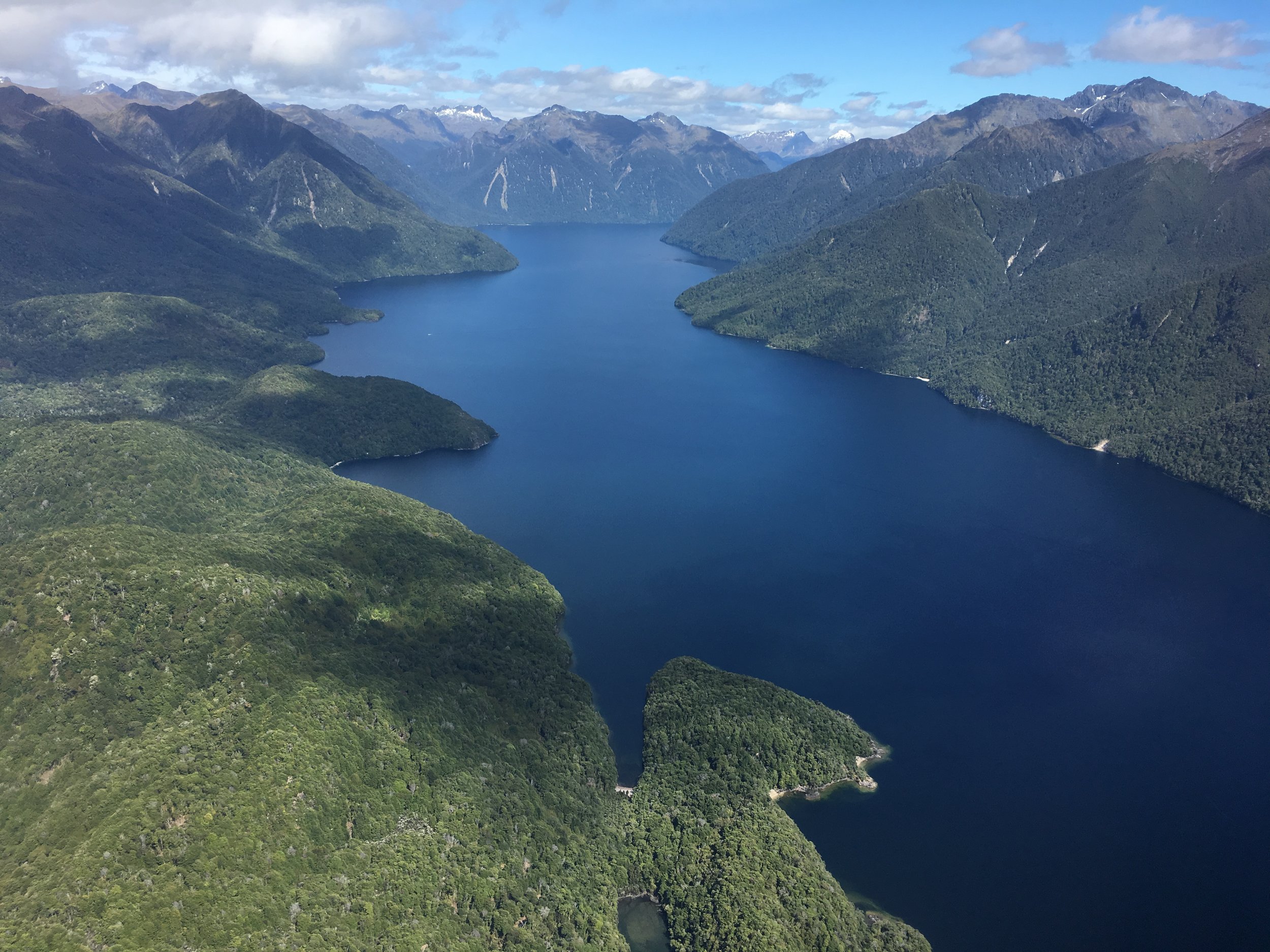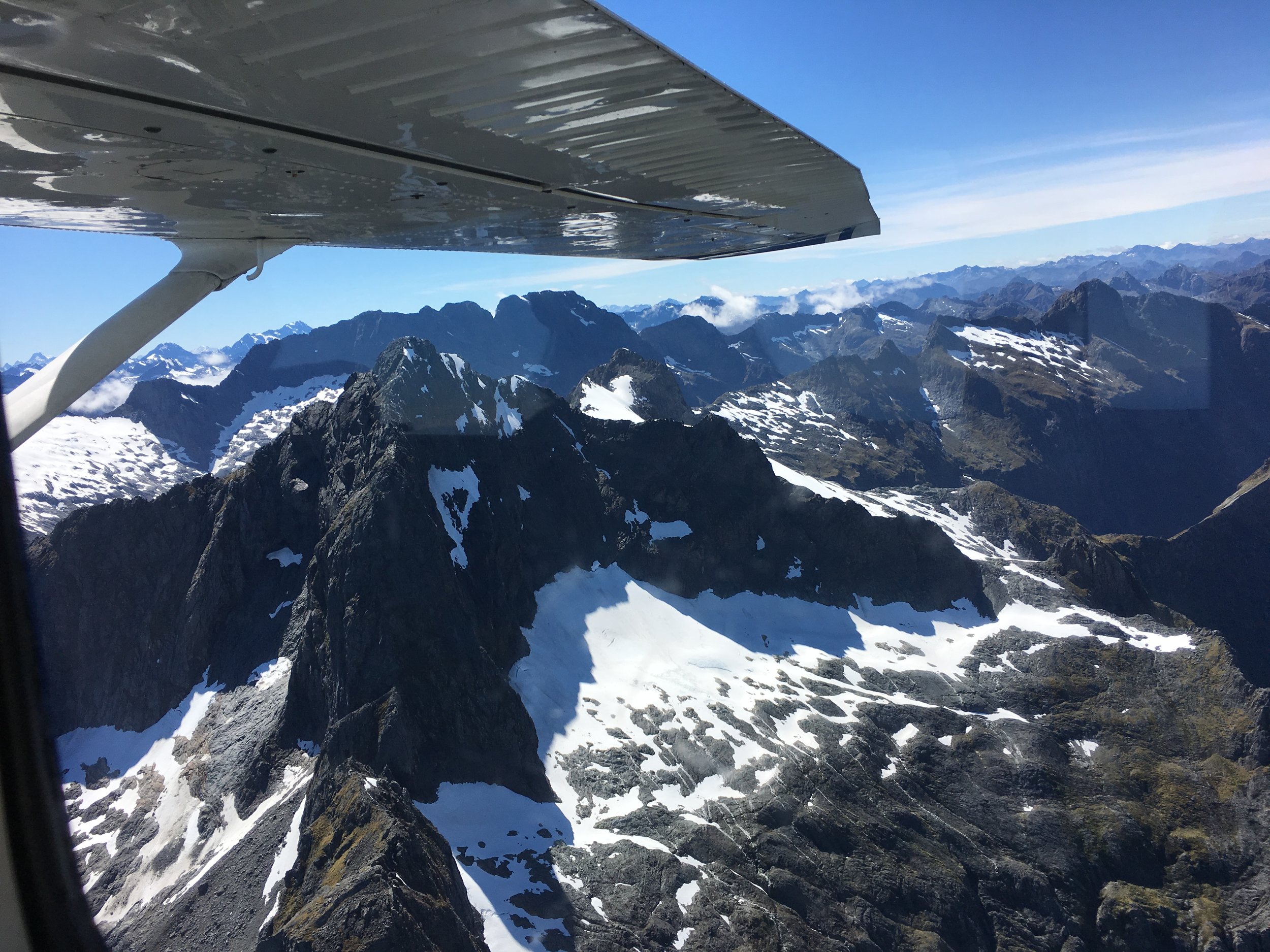 Many tourists wonder whether they should go to Milford or Doubtful Sound. Some haven't even heard of Doubtful. After doing my research, I decided that I'd simply go to both! Unfortunately, the sun from Milford didn't follow suit. So I bundled up in my warmest clothes and set out for a day of kayaking around Doubtful in the rain. With rain gear and a touque (or "wooly hat" as they call them here), I was plenty warm as we paddled out into the fiord. While Milford isn't as touristy as some people say it is, Doubtful is incredibly quiet in comparison. Given the logistical challenges of getting to Doubtful - a boat, a bus over Wilmot Pass, and then another boat, tourists head to the more popular Milford instead. That's just fine by me. As the blade of my paddle cut through the water, we slipped closer and closer to the base of a waterfall. Between the pitter patter of the rain drops falling on top of the kayak, I could hear the the birds chirping in the distance. A remote piece of paradise, just for me.
The Philippines
People ask me all the time, "what's your favourite country to visit?". Without hesitation, I tell them the Philippines. There are so many reasons to love the collection of 7, 000 islands sandwiched between the Philippine Sea and the South China Sea. The most obvious reason is that they have over 100 million of the nicest people on earth. I'm not kidding. Within minutes of arriving in the country and boarding a bus, a Filipino woman started pushing food into my hands as though I was her long lost daughter. I tried to resist apologetically in true Canadian-fashion but she wasn't having it. Moments later, there I was, snacking on soda crackers and sipping grape juice. The Philippines has 338 people living, on average, within each square kilometre. Compare that to Canada's minuscule 4 people per kilometre, (33 million in total) and you realize just how different the Philippines is. Of five islands that I visited over the next two months, Coron and Malapascua would stand out. Although I learned so much on Malapascua during my five dive courses, Coron's historic shipwrecks could lure me back time and time again. Just recently, my friend Bea was on Coron and I couldn't help but feel my heartstrings tug as I gave her advice on which bars, which dive shop, and which dive sites to visit.
Singapore
Maybe it was because my expectations were low or because I had never planned to visit Singapore in the first place, but my weekend jaunt to the state-city was a pleasant surprise. The city was impeccably clean, organized, and orderly. My jaw dropped when I saw people queue for the train. They actually stood to the side in single file and waited for others to get off the train before boarding. It was remarkable. As a rule-following-enthusiast with OCD tendencies, this was my happy place. I loved the Super Trees down by the water and relished in the different cafes, restaurants and street-side markets. I was also fortunate to catch up with my old colleague Shirley from my days of travelling to China for work on the agriculture file. The only thing I didn't appreciate about Singapore was the price of alcohol! Thankfully my old friend Chris from our time in politics was not only employed and being paid in Singaporean dollars, but he was also a gracious host and picked up the bill. Fewf! I could afford to keep travelling…