I've finally arrived on Ko Lanta from Ko Phi Phi. After only a day here, it is clear that the only thing the two places have in common is that they are both beautiful islands in the Andaman Sea. Beyond that, they are as different as they can get. For that, I am grateful.
I'll start at the beginning.
I arrived on Ko Phi Phi ten days ago. I had heard it was one of the most beautiful islands in the region. If you've seen The Beach, starring Leonardo DiCaprio and filmed on Ko Phi Phi Leh, you'll understand how this kind of beauty can also be a burden. As a result of being one of the region's crown jewels, Ko Phi Phi Don has become extremely overpopulated, touristy, and on the verge of ecological ruin. Nevertheless, I was in the south of Thailand and had to check it off my list. I was also interested to see how the island had recovered from the devastating tsunami that literally wiped the sliver of paradise clean. More on this later.
Unfortunately, the ferry to the island from Ao Nang was miserable as I was suffering from my first, and undoubtably my last, bout of "Thai-belly". Although I'd taken every travel pill and needle available, my fondness for street food had gotten the best of me. So upon arrival I holed up in my hotel and slept for the rest of the day. As soon as night fell, I learned first-hand that the "P" in Phi Phi stood for "Party". Even though I'd specifically chosen my hotel because it was one of the farthest from the the party-epicentre, it turned out that the bay provided a terrific sound funnel from the beach to my room.
Between brief moments of sleep and drinking small amounts of water, I checked the cancellation policy on my hotel booking. Since I could not get out of my reservation without forfeiting the entire cost (Ko Phi Phi is anything but cheap), I took a deep breath, drank some water and decided to give the crazy island a chance. Over the next few days, I eased into it by recovering from my "Thai-belly" while finishing one of my final school assignments by the hotel's ocean-side pool. There are worse places in the world to do school work.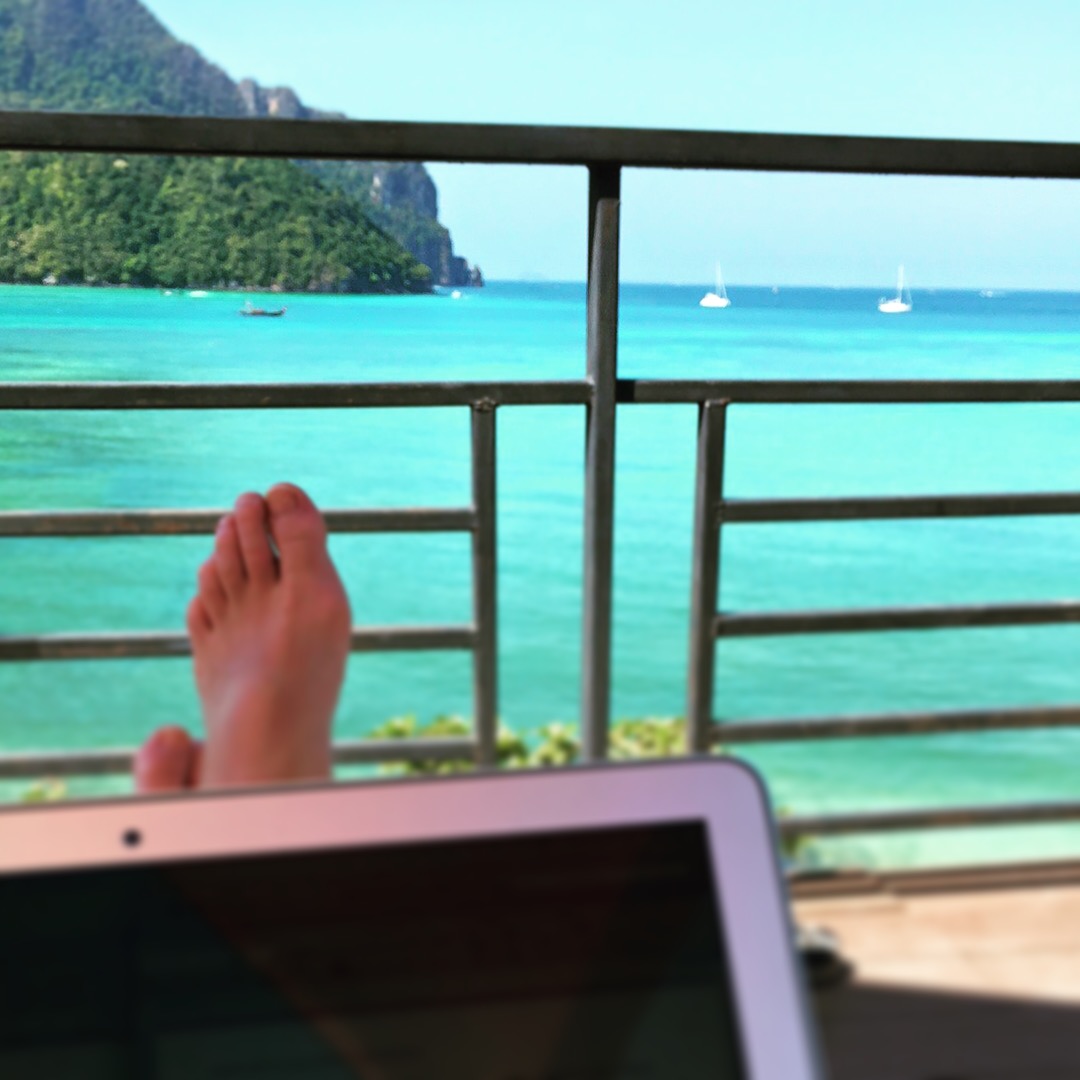 My initial reservations about the island began to subside as I ventured into town for lunch. I found that it wasn't nearly as busy as I had remembered when I first arrived. However, I gathered the island wasn't exactly a cultural epitome when I watched a girl, very painfully, hobble into the restaurant on one foot with the other bandaged. I asked her what happened. In a very matter-of-fact way, she told me that she had attempted to skip a flaming rope. She proudly declared that she had succeeded twice. Apparently not on the third time. I recalled some of my travel research and generously offered that, "I read that you're not suppose to do that because you can get badly burned." She didn't seem to appreciate my post-hoc advice. In her defence, she wasn't the only idiot on the island.
Once aware of the popular skin-burning right of passage, it was easy to spot the bandaged feet, calves, and knees. While Ko Phi Phi has been dubbed Cat Island after it's bevy of friendly felines, the bandaged humans far outnumber them. I later witnessed young and old participate in the fire limbo, flaming jump rope and the gasoline doused double-dutch. Given I never mastered double-dutch on the St. Mary's playground, there was no way I was jumping between two flaming ropes after a few Chang beer at the age of 31. Luckily, there were many who would, much to their demise and gladly for my entertainment.
The island wasn't all debauchery however. l was fortunate to meet new and old friends from Ireland and Canada. With their help, I discovered many of the beautiful parts of the island. A game of Jenga with a Russian, a few fire shows (of the Thai-talented variety), many delicious tropical drinks, an afternoon beer-bong table, a ring-side table of Muay Thai boxing and a boat trip around the island made my initial reservations just a memory.

The most memorable part of my visit to Ko Phi Phi was hiking up to the viewpoint one morning to see the sunrise. From this beautiful vantage point you can see how the tsunami easily washed everyone and everything on Ko Phi Phi into the sea in 2004. There was no warning and nothing to stand between them and the wave. While the exact numbers of how many died that day remain unknown given so many bodies were never recovered and many Thais were unlikely to be properly registered, officials believe that at least 8200 people perished, maybe more. This view brought back memories of my visit two years ago to Khao Lak - an east coast town north of Phuket where at least half of the people died. (Movie Rec: If you have not watched "The Impossible", please do. While difficult to see, it documents the tragedy that befell one of the families on vacation in Khao Lak in 2004.) I also remembered one of the most poignant trips of my political career - to the beaches of Sendai, Japan in 2011 to view the aftermath of one of the largest earthquakes and resulting tsunami's in recorded history. Almost 18, 000 people died or went missing when waves as high as 40 metres travelled 10 km's inland destroying everything in its wake.
Sitting atop of the viewpoint, I realized that it's not a matter of whether it will happen again - it's simply a matter of when. In the aftermath of the 2004 tsunami, the Thailand government spent heavily to help the private sector rebuild and to shore up the world's confidence in Thailand as a safe tourist destination. Thailand has since become a partner and financier of an early warning system. On Ko Phi Phi there are now signs directing tourists where to go in such an event. They've also built a tall concrete building named the Tsunami Emergency Centre on higher ground. It's remarkably small, however. I doubt that even half the people on the island could be held there. It's difficult to imagine what would happen if another big wave came again.
With my visit to Ko Phi Phi ultimately enjoyed, it was time to move on. This time to Ko Lanta...a peaceful paradise further south of Ko Phi Phi. More on that next time...